The American fishing schooners have now gone out of existence, except for one or two vessels preserved as museum exhibits. During the last sixty years of their evolution, as sail-driven commercial craft, they were admired at home and abroad for their sailing qualities, seaworthiness, and beauty.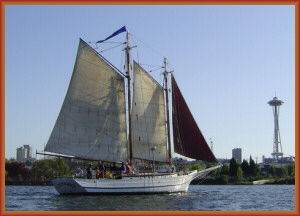 The American Fishing Schooners, 1825-1935
by Howard I. Chapelle
Schooner: A fore and aft rigged vessel of any practical number of masts above one, seven being the largest number ever used.
The Mariner's Dictionary
By Gershom Bradford
In 1973, when historian Chapelle wrote these words, it did appear that the last of the wooden schooners would sink beneath the waves with scarcely a ripple of notice. Fortunately a number of people and organizations around the country had already fallen in love with a number of the surviving tall ships, and were working to preserve them. Northwest Schooner Society volunteers have a long history of working to preserve historic vessels, and to introduce hundreds of people each year to our rich maritime heritage.
NWSS offers programs aboard the privately owned 136 foot Schooner Zodiac and aboard the Society-owned Schooner Lavengro ranging from sunset sails in the waters of Lakes Washington and Union, to multi-day cruises for high school students in the San Juan Islands of Washington State.
Both schooners are crewed and maintained predominantly by volunteers.